Founder of Natur-Drogeriet, Dr A. O. Hansen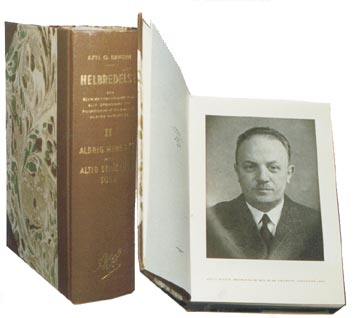 70 years ago, there was no natural health industry in Denmark. The faith in herbs and plants as the basis of healing and optimum health was forced back by the faith in pharmaceutical chemistry and synthetic medicines.
At the time, you had to have a certain amount of courage to go against authorities in order to preserve and extend people's awareness of the century-old knowledge of herbs and plants. One such courageous man was Dr A. O. Hansen (1892-1971). He firmly believed that good health and well-being depends on our living in harmony with Nature and using its vast healing potential.
In the 1930s, the largest natural health encyclopedia was published in Denmark, Helbredelse Bind I og II (Healing, volumes I and II). Thus, Dr A. O. Hansen was the first person to diffuse information about and sell - among other things - ginseng to Danish consumers.
In 1945, he founded his own herbal company and named it Drogeriet. He was in charge of the company until his death in 1971.
New owners, new name, new times
In 1976, management of Drogeriet was assumed by Jonna and Peer Christiansen, who renamed the company to its present name, Natur-Drogeriet A/S. Prior to that, they had established one of the largest health stores in Denmark, Sundhedskost in Aarhus. Thus, they were more than competent to carry on Dr A. O. Hansen's ideas.
Until 1988, Natur-Drogeriet was located in Aarhus suburb Aabyhøj. Lack of space made the couple expand their activities and build new premises in Hørning south of Aarhus - where the company still has its head office and production facilities.
The 1976 change of ownership meant new impulses and the beginning of a development that made Natur-Drogeriet one of the most state-of-the-art natural health companies in Scandinavia. Several of the products that were the brain children of Peer Christiansen are still sold in large quantities – Urte-pensil, Maximum EXTRA og Thea Go', to mention just a few...
Through decades, Peer's knowledge, commitment and strong wish to improve public health has been the driving force. Jonna has been the perfect strong woman behind the successful man. Her organizational and financial skills have ensured sound operation of a company in a roller-coaster industry - and she has been the essence of calm and care for all employees.
Rigid production and marketing requirements have been everyday challenges for the natural health industry, and throughout the years, Peer has continued his fight for people's right to help themselves and voiced his opinions on public platforms. Quality control, self-monitoring and HACCP are concepts that play an important part for companies supplying products for consumption. At Natur-Drogeriet, focus has always been on high-quality raw materials, hygiene and other measures that ensure the best possible products for consumers.
70-year anniversary - and a change of management
In June 2015, Natur-Drogeriet celebrated our 70-year anniversary - and what a celebration it was! 700 guests were invited and treated to company tours, exciting lecturers, delicious food, healthy drinks and good company. At the same time, the celebration marked a change of management as after almost 40 years Jonna and Peer chose to hand over the reins to their youngest daughters Annette and Charlotte and their respective husbands.
The new generation continues the spreading of century-old knolwedge of Nature's treasure trove of leaves, flowers, stalks, roots and bark. The management vision is to promote public health through herbs, hebal drugs, vitamins, minerals and essential oils.
Jan took over as Managing Director from Peer and is responsible for the day-to-day running of Natur-Drogeriet.
Natur-Drogeriet has a staff of app. 50 people in production, administration and quality control.
In addition, Natur-Drogeriet is an active member of the industry organisation Nutraceutisk Industri, established in 2006, as a member of Dansk Industri. Nutraceutisk Industri targets their efforts on a constructive dialogue with authorities and consumer organisations.
With the winds of change blowing over the natural health industry and Natur-Drogeriet, one thing remains certain: all well-known and effective herbal blends are still going strong - both as tea and capsules. Natur-Drogeriet has the largest assorment of herbal medicines and dietary supplements, herbs, spices, essential oils, proteins and health foods - to the extent possible organic, of course.
Milestones in our history
since the turn of the century


2001: NATUR-DROGERIET - 25-YEAR ANNIVERSARY

2009: PRINCE HENRIK OF DENMARK VISITS NATUR-DROGERIET

2010: URTE-PENSIL AWARDED THE '25 YEARS OF SALES SUCCESS' PRIZE

2012: TRAINEESHIP OF THE YEAR

2015: NATUR-DROGERIET - 70-YEAR ANNIVERSARY

2015: LIFE TIME ACHIEVEMENT

2016: PRODUCT OF THE YEAR

2017: DANISH BEAUTY AWARD NOMINATION

2020: 75-YEAR ANNIVERSARY

2021: TRAINEESHIP OF THE YEAR

2022: AWARDED AS BUSINESS DEVELOPER OF THE YEAR

2022: DANISH BEAUTY AWARD NOMINATION

2023: PRODUCT OF THE YEAR - AGAIN